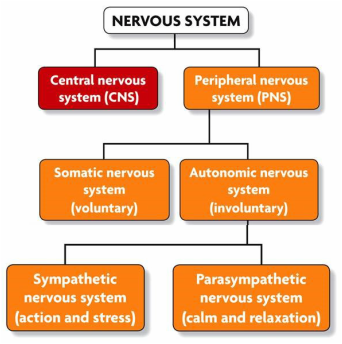 When we start biofeedback training we usually begin with breathing. It's often used as an anchor for many other techniques taught by biofeedback therapists/clinical psychophysiologists.
There are 2 big matters that we need to look at first.
Why is almost everyone in this field (and many others) interested in breathing?
I have been to Yoga/meditation/TaiChi/singing lessons/Feldenchrais or something else and learned all about all this diaphragmatic breathing already so why go over it again?
To answer the first question:
Why breathing? For one really good answer we have to look at a simple diagram of the nervous system.
This diagram and others like it are in high school/secondary and basic anatomy and physiology texts all over the world. They help you understand how you're wired. (The actual length of the wiring or nervous system depends on how you count but I've seen figures that range from 45 to 90,000 miles, one way or another it's huge, try laying 45 miles of electrical wire sometime, never mind 90,000)
​
Every system in your body is either Voluntary or Involuntary (Somatic/Autonomic to use older and less descriptive though more common terms)

For example, your heart is Involuntary (autonomic). Your thigh muscles are governed by your Voluntary (somatic) nervous system. Your Liver, Spleen, Intestines, Kidneys, Pancreas etc. are activated by involuntary nerves but your biceps are voluntary.
OK, simple question:
What part of my nervous system do I use when I'm breathing? If you want to deliberately take a breath while you are reading this, you can, so that makes it

part of the Voluntary (somatic) nervous system. B

ut you breath behind the scenes all the time (we like to see around 12 or lower a minute, when you're not paying attention) which makes it part of the Involuntary (autonomic) nervous system…Confused?
It's both voluntary and involuntary. And that's why we like it. A system with one foot in the Voluntary (somatic) camp and another in the Involuntary (autonomic) camp. If we want to influence the involuntary nervous system and all the organs it influences, we do it deliberately by using breathing in a voluntary way. It's a great go-between.
To answer the second question:
I've learned how to breath already, do I have to do it again?
Many people start therapy and they seem to be breathing fantastically well but there are a small number who look great but when we look a little deeper they're not getting much benefit. They're breathing using their diaphragm, their shoulders and chest aren't moving much, they're moving their tummies (Rectus Abdominus) they're just not seeing a strong physiological change.
To see the immediate physiological effects you can look at Carbon Dioxide and how much is in your breath or you can look at your Heart Rate and how much it varies. I'll cover these modalities in a later post.